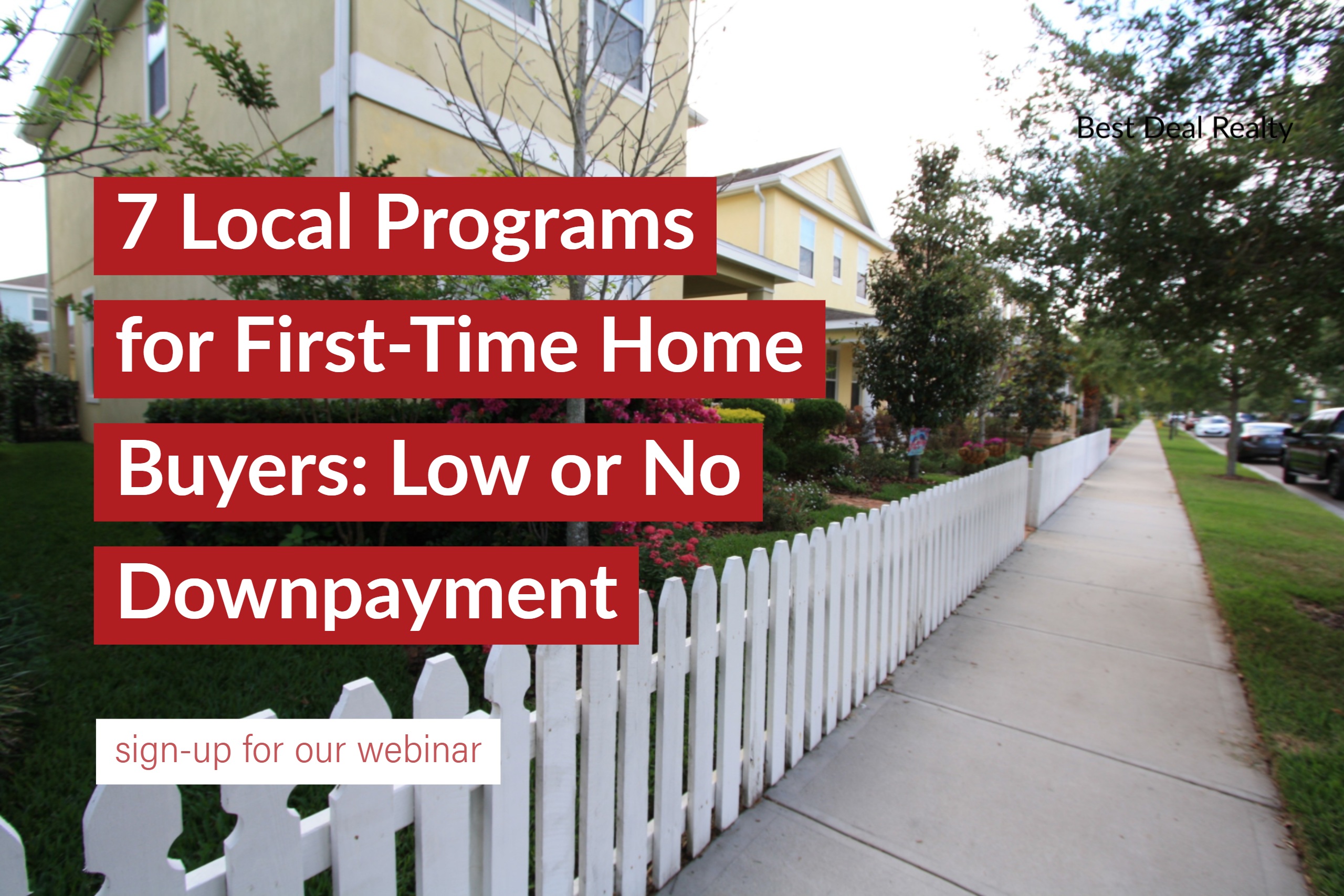 According to a recent statistic published by Fannie Mae, 73% of renters ages 18-34 were unaware of the existence of lower down-payment loans and programs.
Buying a home is not out of reach if you lack a downpayment. There are many governments, state, city and even county programs designed to help first-time home buyers.
We listed 7 programs available locally in Tampa Bay. If you not sure if you will qualify, fill out this form and we will let you know what's possible in your situation.
Federal Housing Administration (FHA) Loan
FHA provides mortgage insurance on loans made by approved lenders. Because FHA backs these loans, they have a lower down payment requirement: currently 3.5%.
Here are my top 3 reasons for recommending FHA loans:
Competitive interest rates

Smaller down payment

Lower credit requirements and generally easier qualifying
The negative is the extra mortgage insurance but that goes aways once 20% of the loan is repaid.
2. Federal Housing Administration (FHA) 203 (K)
Do you want to buy a fixer-upper but don't have the money for repairs? The HUD repair and rehabilitation loan FHA 203(K) loan may be the best way to go. This program is backed by the FHA and you can use it when you want to purchase a house in need of repair. The repairs will be financed together with your loan.
3. U.S. Department of Agriculture (USDA) loan
This is a no down payment loan backed by the U.S. Department of Agriculture. To be eligible the property must be located in a Rural Area but Ruskin and Wimauma are included and they are not very rural anymore. Here is a link to check your eligibility for the USDA program. In addition to the location of the property, there are some income restrictions. Call your lender or call us to learn more about it. When you combine this program with our cash back on new homes and builders contribution to closing costs this can be a true no money down deal for some properties.
4. Veteran Affairs Loan
This loan is guaranteed by VA and are only available to service members, veterans, and surviving spouses of veterans.
No down payment is required for a V.A. Loan and the interest rates are better than conventional loans. Also, you don't have to pay for any private mortgage insurance.
5. Good Neighbor Next Door Program
This program is sponsored by the U.S. Department of Housing and Urban Development (HUD). https://www.hud.gov/program_offices/housing/sfh/reo/goodn/gnndabot
The main aim of this program is to help revitalize certain areas by giving law enforcement agents, firefighters, emergency medical technicians and teachers from pre-kindergarten to 12th-grade a chance to buy a home at 50% discount.
The buyer does not have to be a first-time buyer. However, there are two conditions.
Buyer cannot own any other residential home after buying through this program.

Buyer should not have own a home one year before buying though GNND.

Buyer must commit to living in the home for a minimum of 36 months
6. Native American Veteran Direct Loan
It has been in existence since 1992. Through this program native, American veteran and their spouses have been able to purchase homes on federal trust lands.
The lender for this program is the veteran affairs.
Once your eligibility is confirmed, there is no need for you to make any down payment or pay for any private mortgage insurance.
You will also get a 30-year-fixed-rate mortgage and a low closing cost.
7. Local State, County and City Programs
Apart from the loans and programs being offered by the federal government, there are states and cities who also offer help to first-time buyers.
Before you purchase a house, I strongly recommend that you check your state or city's website if there are housing aids available in your area. Here are some of the available programs in Tampa Bay.
If you want to learn more about grants and programs suitable for your situation, consider contacting a lender or a HUD-approved housing counseling agency in your local area.
City of Tampa Mortgage Assistance Program - Provides a silent second mortgage $14,999, minimum 600 credit score, the property needs to be within the city of Tampa. The program requires Homebuyer education classes attendance.
Hillsborough County Downpayment Assistance 30 Year Deferred, 0.00% second mortgage, up to $10,000. Must be used for down payment and closing cost. The second mortgage is never forgiven and must be repaid when the first mortgage is refinanced, sale, short-sale, foreclosure or if the borrower ceases to live in the property.
Maximum income: 1 person household $58,660; 2 or more person household $67,060
Property price: up to $253,809; Credit score: 640 or higher
Pinellas County First-Time Buyer program - This down payment ($7500) and closing cost assistance program is a deferred, non-amortizing. 0% interest, second mortgage that is repayable when borrowers sell or refinance the property. The maximum income for this program is higher: 1 to 2 family members $70,800